You love to golf, right? What about traveling to exotic locations? If Thailand isn't already on your radar as a premier golf destination, it should be.
With over 260 golf courses scattered across the country, many situated in stunning natural settings, Thailand offers an abundance of options for any golfer looking to tee off in paradise.
From the mountains of Chiang Mai to seaside escapes on the Gulf of Thailand or Andaman Sea, the variety of courses will have you wanting to pack your clubs and hop the next flight. While the options may seem overwhelming, we've rounded up some of the best golf destinations in Thailand to help you plan your golf getaway in the Land of Smiles.
Get ready to experience golf in a whole new way. The vibrant culture, delicious food, and natural beauty of Thailand combined with world-class golf courses will have you wanting to stay for an extended golf holiday. Let's look at where you should start.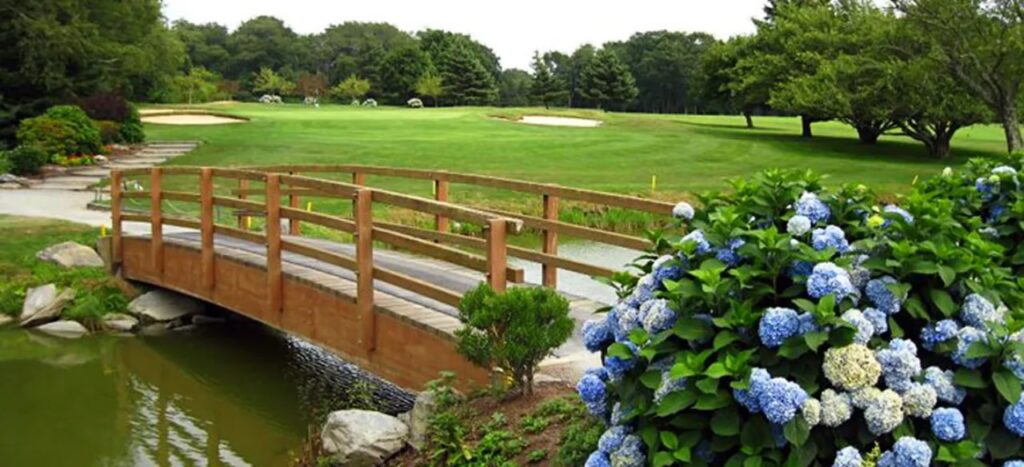 Why play golf in Thailand?
Thailand is a golfer's paradise for so many reasons.
Stunning scenery
The courses are set amidst breathtaking vistas, from emerald green hills to sandy beaches overlooking the azure sea. Where else can you tee off with ancient temples in the distance or spot monkeys in the trees? The natural beauty alone makes it worth the trip.
World-class courses
Thailand is home to over 300 golf courses, many of which rank among the finest in the world. You'll find championship courses designed by golf legends like Jack Nicklaus, Arnold Palmer and Greg Norman set along the coastline or winding through the jungle.
Amazing value
Compared to golfing hotspots like Hawaii or Scotland, Thailand offers an incredible bang for your buck. Green fees are very budget-friendly, especially if you go during the low season. And with the low cost of living, your dollars will stretch a lot further.
Year-round tropical weather
While snow may cover courses back home, Thailand's weather means you can enjoy a round of golf any time of year. The dry, cool season from December to February is the most popular, but the rainy season still sees plenty of sunshine and lower crowds.
With stunning scenery, world-class courses at amazing value, and weather that invites year-round play, Thailand is a golfer's Eden. Come experience golfing in paradise for yourself!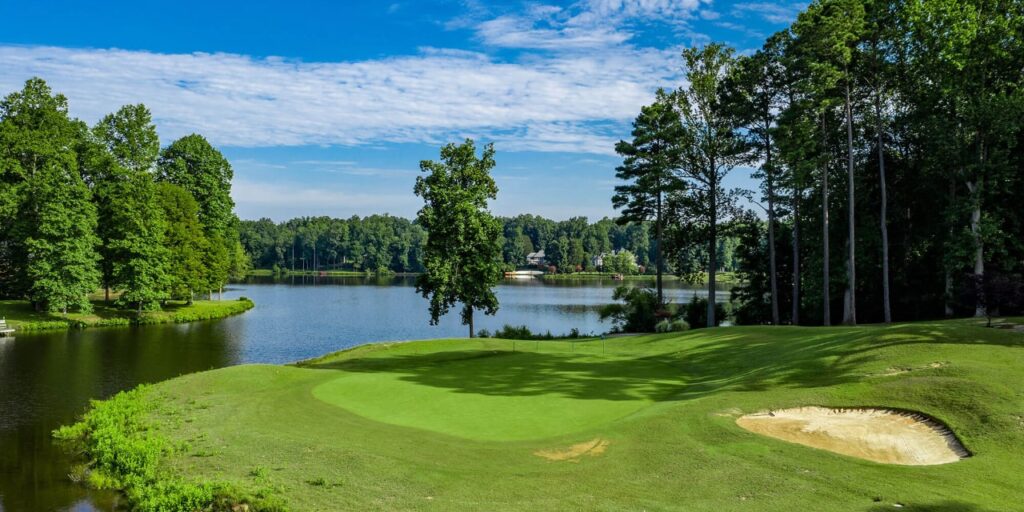 Golfing in Chiang Mai:
Play in Northern Thailand's Natural Beauty
When you want to experience the natural beauty of northern Thailand while perfecting your swing, head to Chiang Mai. This mountainous region is home to over 20 world-class golf courses set amidst lush forests, rivers, and rice paddies.
Golfing in Chiang Mai offers unique challenges and rewards. The terrain means you'll encounter uneven lies, elevation changes, and distracting vistas. But the surroundings more than make up for any added difficulty. At the Chiang Mai Highlands Golf Resort, you'll play in the shadow of Doi Suthep mountain. The course winds through forests of teak and pine with bursts of color from orchids and rhododendrons.
For a links-style course, try Gassan Khuntan. This 18-hole championship course is set on a plateau with panoramic views of the countryside. With wide fairways and large greens, it's perfect for beginners and low-handicappers alike. For a scenic river challenge, head to Mae Jo Golf Club which features 27 holes along the Mae Ping River, complete with island greens.
With the affordable green fees – often under $100 for 18 holes – playing multiple courses is tempting. Many resorts offer stay and play packages, so you can spend a few days tackling the scenic fairways at your own pace. The cool weather from December to February is the high season, though the rainy months from July to October often see smaller crowds and lower rates.
Whether you're a casual duffer or aspiring pro, the chance to play world-class golf amid the beauty of Thailand's north is an experience you won't soon forget. Tee off in paradise – the fairways of Chiang Mai await!
View Golf Course Directory – Chiang Mai for more information.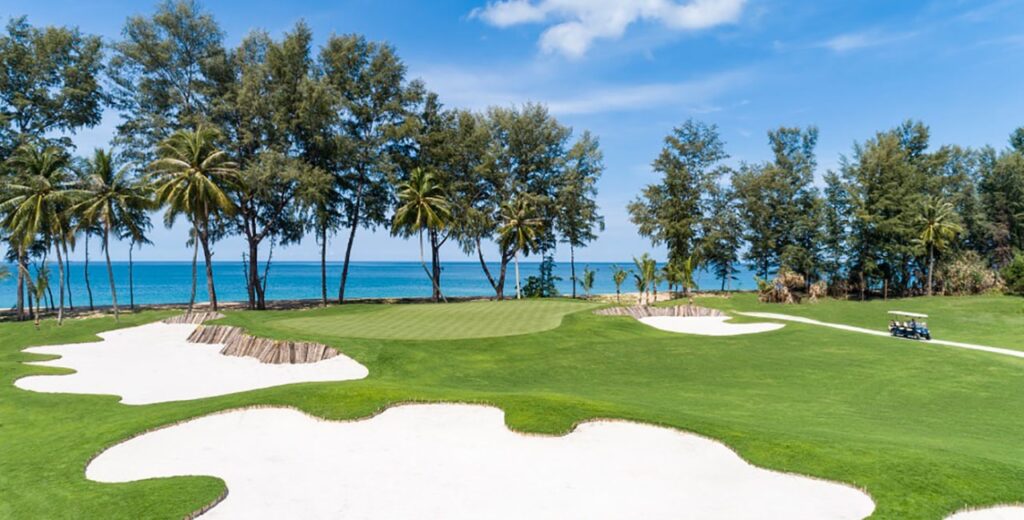 Golfing in Phuket:
Swing With a View of the Andaman Sea
Phuket, Thailand's largest island, is a premier golf destination with eight world-class courses offering stunning views of the Andaman Sea. You'll find a range of options from mountainside to seaside.
The Red Mountain Golf Club is considered one of the top courses in Asia with dramatic elevation changes and panoramic vistas of Phuket's west coast. The challenging 18-hole course winds through a former tin mine, with narrow fairways and forced carries over abandoned mine pits. Bring extra balls! After your round, grab a drink at the clubhouse to watch the sunset over the sea.
For a coastal course, head to the Blue Canyon Country Club, home of two championship courses. The Canyon Course is built along a scenic canyon with lakes and streams while the Lakes Course features large lakes that come into play on many holes. Both offer glimpses of the Andaman Sea and Phuket's beaches. The stunning scenery may distract you from your swing!
If you prefer resort-style golf, Laguna Phuket Golf Club is part of the Banyan Tree resort complex and overlooks the Bang Tao beach. This 18-hole par-71 course offers a perfect mix of challenge and relaxation. Between rounds, lounge by one of Laguna Phuket's lagoon pools or book a treatment at the spa.
With Phuket's tropical climate, you can play golf year-round. The dry season from December to April offers the best weather, though the summer rainy season still sees plenty of sunshine and lower rates. Whatever time of year, Phuket's golf courses provide an unparalleled mix of sport and scenery. You may just find yourself distracted from the game by the island's natural beauty!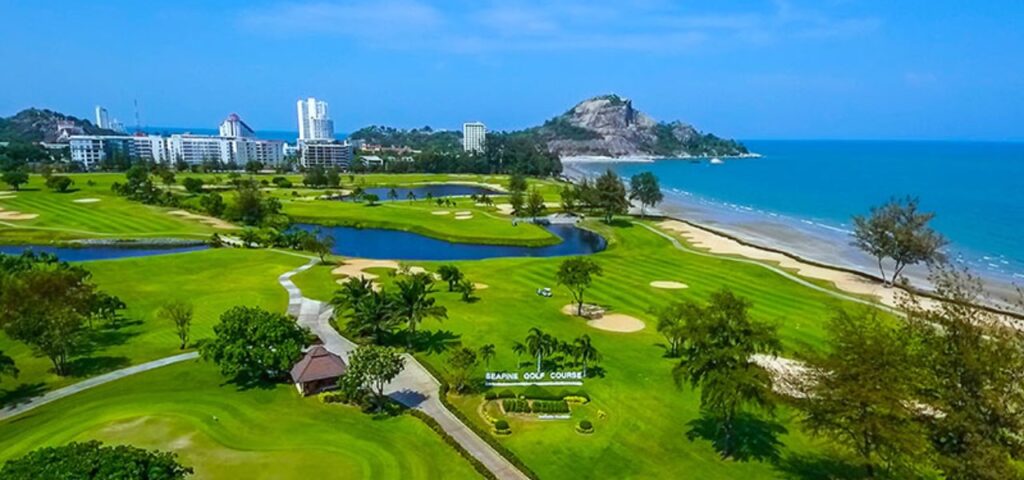 Golfing in Hua Hin:
A Tropical Paradise
Hua Hin is a popular beach destination on the Gulf of Thailand, about a three hour drive south of Bangkok. Its seaside location and tropical climate make it an ideal spot for beach activities.
It also happens to be home to some of the best golf courses in Thailand. With scenic sea views and lush greenery, you'll feel like you're playing in paradise.
The Royal Hua Hin Golf Course is one of the oldest in Thailand, built in 1924. As a semi-private club, visitors can book tee times and enjoy this historic course. The links-style layout features undulating fairways lined with mature trees. – Black Mountain Golf Club is rated as one of the best courses in Asia with its stunning mountain backdrops, ocean vistas and challenging play. – Banyan Golf Club is aptly named for the massive banyan trees found throughout the course. Narrow fairways and small greens require precision, but the natural setting makes it worth the difficulty.
In Hua Hin, you can golf year-round with the dry season running from February to October. Green fees are very affordable, ranging from 1,500 to 5,000 baht per round depending on the course and time of day. Caddies and carts are available at most courses for a small fee. Many hotels and resorts in Hua Hin offer golf packages that include room rates and unlimited golf.
Whether you're a novice or seasoned player, the golfing in Hua Hin is world-class. The combination of scenic courses, idyllic weather and lower costs compared to other destinations makes it a premier golf getaway in Thailand, if not all of Asia. Come experience it for yourself—your perfect tropical golfing paradise awaits!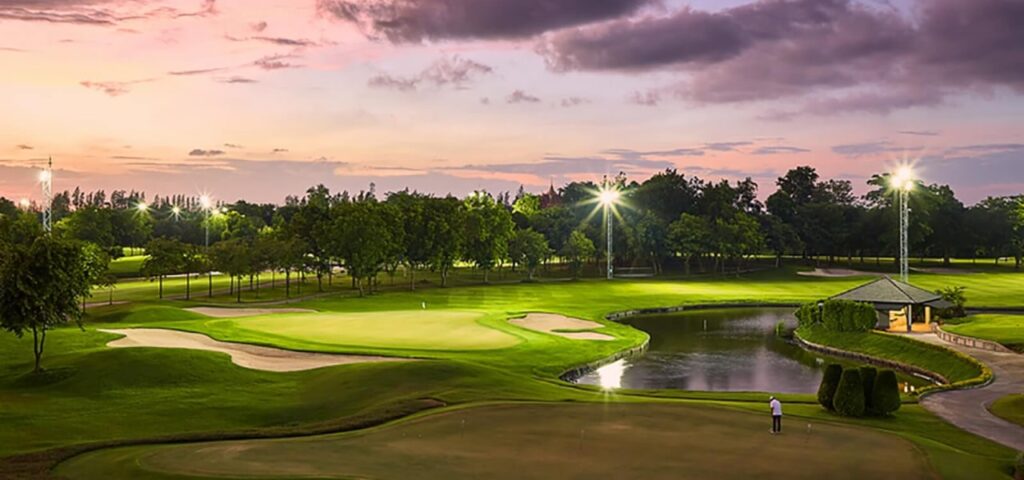 Golfing in Bangkok:
Tee Off in Thailand's Bustling Capital
Bangkok offers some of the best golfing in Thailand, with over 20 world-class courses in and around the city.
As the country's bustling capital, Bangkok provides a vibrant backdrop for a golf getaway. You'll experience the thrill of the city between rounds, with options for shopping, dining, nightlife and culture around every corner.
Convenience and Variety
In Bangkok, you'll find a course to suit any skill level and budget. Many are located within 30 minutes of the city center, including affordable municipal courses as well as prestigious clubs that have hosted professional championships. Head to the northern outskirts for courses in mountain foothills, or stay central at acclaimed tracks like Thai Country Club or Alpine Golf Resort. With year-round tropical weather, you can play anytime.
Combine Golf and Culture
A trip to Bangkok isn't complete without experiencing the city's cultural attractions. In between rounds, visit the gleaming temples and palaces, including the Grand Palace and Wat Pho. Check out the lively Chatuchak Weekend Market or upscale Siam shopping district. Catch a tuk-tuk ride through colorful Chinatown. As night falls, head to Khao San Road for cocktails, catch a world-class show like Siam Niramit, or take in the neon city lights on a dinner cruise along the Chao Phraya River.
Luxury Escapes
For an indulgent golf getaway, Bangkok's luxury resorts provide a convenient home base with world-class amenities. Stay in an opulent suite at Mandarin Oriental Bangkok, shaded by palm trees along the river. The St. Regis Bangkok and Waldorf Astoria Bangkok also offer pampering accommodation and access to prestigious clubs like Thai Country Club and Muang Kaew Golf Club. After a day of golf in tropical paradise, relax in the spa, dine on gourmet cuisine and gaze at the glittering city skyline from an infinity pool.
With a vibrant mix of culture, dining, nightlife and luxury, Bangkok provides the perfect backdrop for an unforgettable golf escape in Thailand's exotic capital city. Tee off in paradise and experience Bangkok's best on and off the course.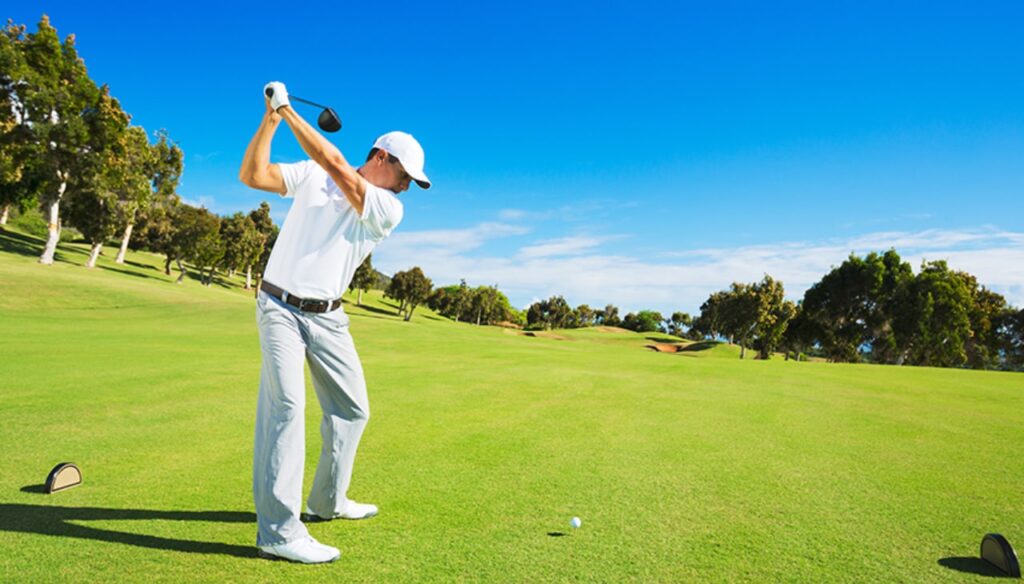 Conclusion
Looking for an exotic golf getaway? You really can't go wrong with Thailand.
With stunning courses set against a backdrop of mountains, jungles and beaches, Thailand offers an unparalleled golfing experience.
Whether you want to play where the pros do at prestigious courses near Bangkok or head to the northern hills around Chiang Mai, you'll find your own slice of golf paradise. And the best part is, your non-golfing travel companions will have plenty to keep them occupied while you're out on the links.
So pack your clubs, book your tickets and get ready to tee off in one of the world's most beautiful destinations. Thailand's golf courses are calling your name!